'CYCLONE' GRINDING WHEELS
Beware of cheap imitations. Make sure you get the original DinaSaw® ABN wheel.
Sizes to suit all popular grinders.
Amber Boron Nitride (Steel Chain) or Diamond ( Tungsten Chain) Coating.
Unique design keeps grinding surface cool reducing tooth burning.
Only metal particles are ejected during grinding keeping machines cleaner, reducing wear and reducing respiratory problems.
Safe steel blank will not break.
Never needs to be reshaped.
Durable nickel coating.
Doesn't glaze like standard wheels.
Outlasts standard wheels many times over.
Reduces labour costs. No maintenance required.
CNC machined for absolute accuracy.
Any size or profile available.
Personalize the wheel with your name engraved here
– minimum orders apply.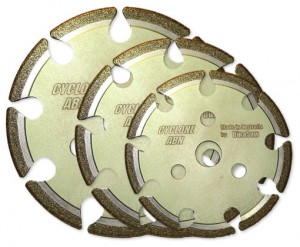 Need more information about this products?